Thanks to the always awesome Reclaim Team, especially Tim, the newest version of the modern flat-file (no database) CMS Grav is now available to be installed via the Control Panel using Installatron:
As shown in the above video, among the ready-to-run packages that you can install at the same time (called Skeletons) is the newest release of the open source Grav Course Hub: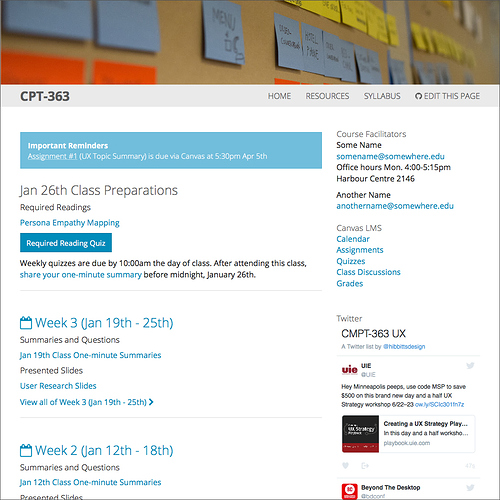 Example Grav Course Hub website, with GitHub collaborative page editing enabled. Explore an example single course site at demo.hibbittsdesign.org/grav-course-hub/ and a multiple course site at demo.hibbittsdesign.org/grav-multi-course-hub/.
The Course Hub skeleton was created for my fellow tech-savvy educators who want to move beyond their current LMS, and is intended to accompany a face-to-face, blended or fully online university course. It supports a flipped-LMS approach using Grav along with GitHub/GitLab as an open and collaborative Web platform.
If video is more your thing, here is a 10-minute overview for you: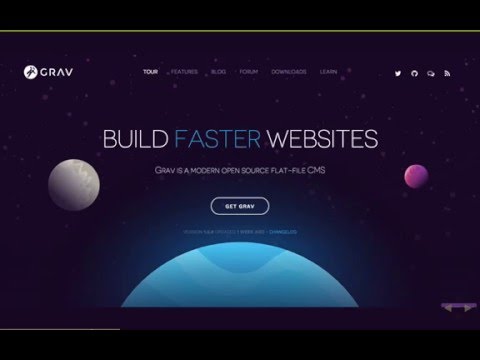 Once you've installed the Grav Course Hub in your Reclaim Hosting space, check out these posts to learn more at hibbittsdesign.org:
Want to see a real course using the Grav Course Hub? Explore my Fall 2016 CMPT 363 (User Interface Design) Course Hub at Simon Fraser University, where I also use Canvas to support needed LMS elements.
Questions or comments? Post'em right here!
For the latest news/updates about Grav Course Hub follow me on Twitter @hibbittsdesign.