Not sure I understand my topic title, but such is life in the cloud.
I watched your awesome video on working with Docker on the Reclaim Cloud, @timmmmyboy, so I tried installing this Bitnami instance of Discourse using the compose file. I setup a Doocker Engine environment and then ran the following two codes:
$ curl -sSL https://raw.githubusercontent.com/bitnami/bitnami-docker-discourse/master/docker-compose.yml > docker-compose.yml
$ docker-compose up -d

It downloaded and appeared to install at http://bavacourse.uk.reclaim.cloud/, but nothing: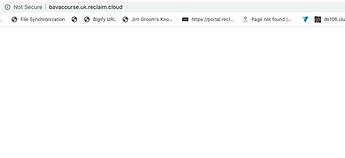 I then tried the /admin URL and could see there that Discourse was installed, but maybe the stylesheet or URL was off?
At this point I am wondering if I messed up not setting the
DISCOURSE_HOSTNAME
environment variable to
bavacourse.uk.reclaim.cloud
. And, if so, would I do that in the compose file before loading it? Is there a way to edit this post facto? Inquiring minds want to know