We are pleased to announce the addition of LiteSpeed products to the Reclaim Cloud arsenal to assist users in building environments with a focus on performance and security.
Litespeed Web Server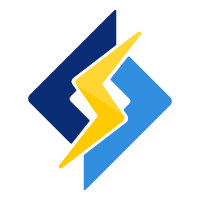 LiteSpeed Web Server conserves resources without sacrificing performance, security, or compatibility. Replace Apache with LiteSpeed, and double your maximum capacity, eliminate the need for a 3rd party caching layer, and get support for cutting-edge technologies like HTTP/3. Compare LiteSpeed to Apache and Nginx web servers
Features
HTTP/2, QUIC, HTTP/3
Apache Drop-in Replacement
One-Click Cache Acceleration
SSL Handshake Offloading
ModSecurity Compatible
And more
Learn more at LiteSpeed Web Server - Apache Alternative - LiteSpeed Technologies
LiteSpeed Web ADC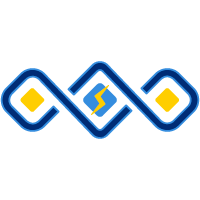 LiteSpeed Web ADC is an affordable, high-performance HTTP load balancer application. Feature-rich, secure, and efficient, it offers more flexibility than similarly-priced load balancing software. Web ADC is an excellent choice for small enterprises looking to scale their applications beyond one server.
Features
HTTP/2, QUIC, HTTP/3
Server-level reCAPTCHA
Smart Botnet Detection
WordPress Brute-Force Protection
Layer 7 Anti-DDoS Filtering
And more
Learn more at LiteSpeed Web ADC - Load Balancer - LiteSpeed Technologies
Adding to your Environment
LiteSpeed products are offered when creating a new environment using the Topology Wizard both in the Load Balancer section for Web ADC and as an Application Server.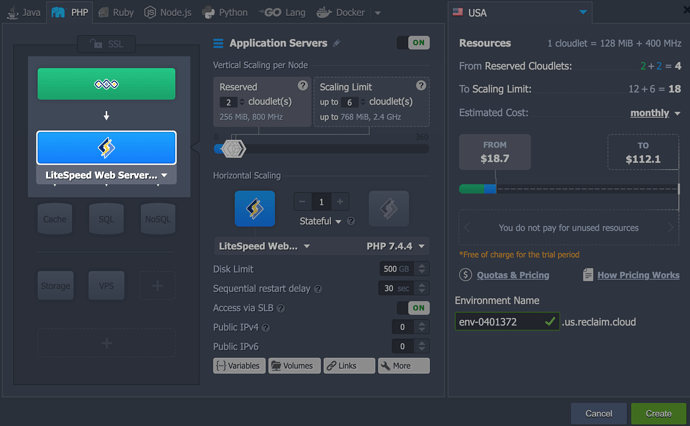 Additionally some content management software installers in the Marketplace like WordPress will offer LiteSpeed options.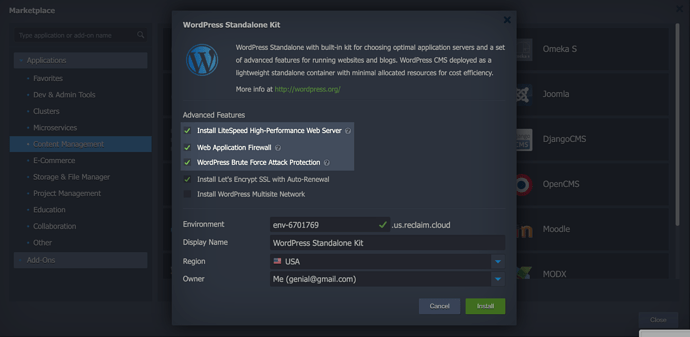 Pricing
Litespeed licensing costs are tier-based on cloudlet usage and traffic in addition to the standard cloudlet pricing model.
Litespeed Web Server
Free for up to 16 cloudlets
17-64 cloudlets: $0.014/hr ($10/mo)
65+ cloudlets: $0.022/hr ($16/mo)
Litespeed Web ADC
1 cent per 1GB of traffic per hour
The consumption beyond 6.5TB of traffic per month is free of charge.