Difficulty: Intermediate
Estimated Cloudlet Usage: 8-30 depending on concurrent connections
Minecraft Java Server has now been added to the Marketplace. Minecraft Java Edition is the original Minecraft version created by Mojang that supports Windows, Mac, and Linux and allows players to build worlds and play together in multiplayer environments. There is a one-time fee for the software (currently $26.95) and available at minecraft.net. This server is only compatible with Minecraft Java Edition. For other platforms you will want to run Minecraft Bedrock Server.
You can find Minecraft Java Server by clicking Marketplace and then Applications to show all or searching by name.

Installing is as easy as setting an environment name for the server and region to install. After a few minutes your server will be up and running and ready to accept connections from players.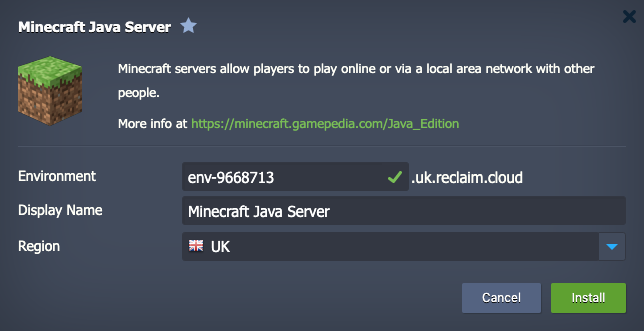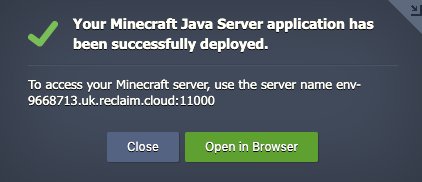 To connect to the server you'll want to take note of the server hostname and port number provided. Open your client and access the Multiplayer option.
Click Add Server and paste in your server address with port number.
Once the server is added and it has booted you should see it online and ready to accept connections. Click to select and join.
Our implementation of Minecraft Java Server uses Docker and you can customize a variety of settings through the use of environment variables. For a full list of documented options visit https://github.com/itzg/docker-minecraft-server/blob/master/README.md. To add variables to your container, after install you will click the gear icon and select Variables where you can add your own settings in key/value format.
With any change to variables you will need to restart the server for those changes to take effect.